3B8MB Blog
Here we will update our story after our departure from Italy.
In the meanwhile pse enjoy some pictures of our preparations.
Apr. 16th 2018
Licence has arrived this morning, 3B8MB Callsign confirmed: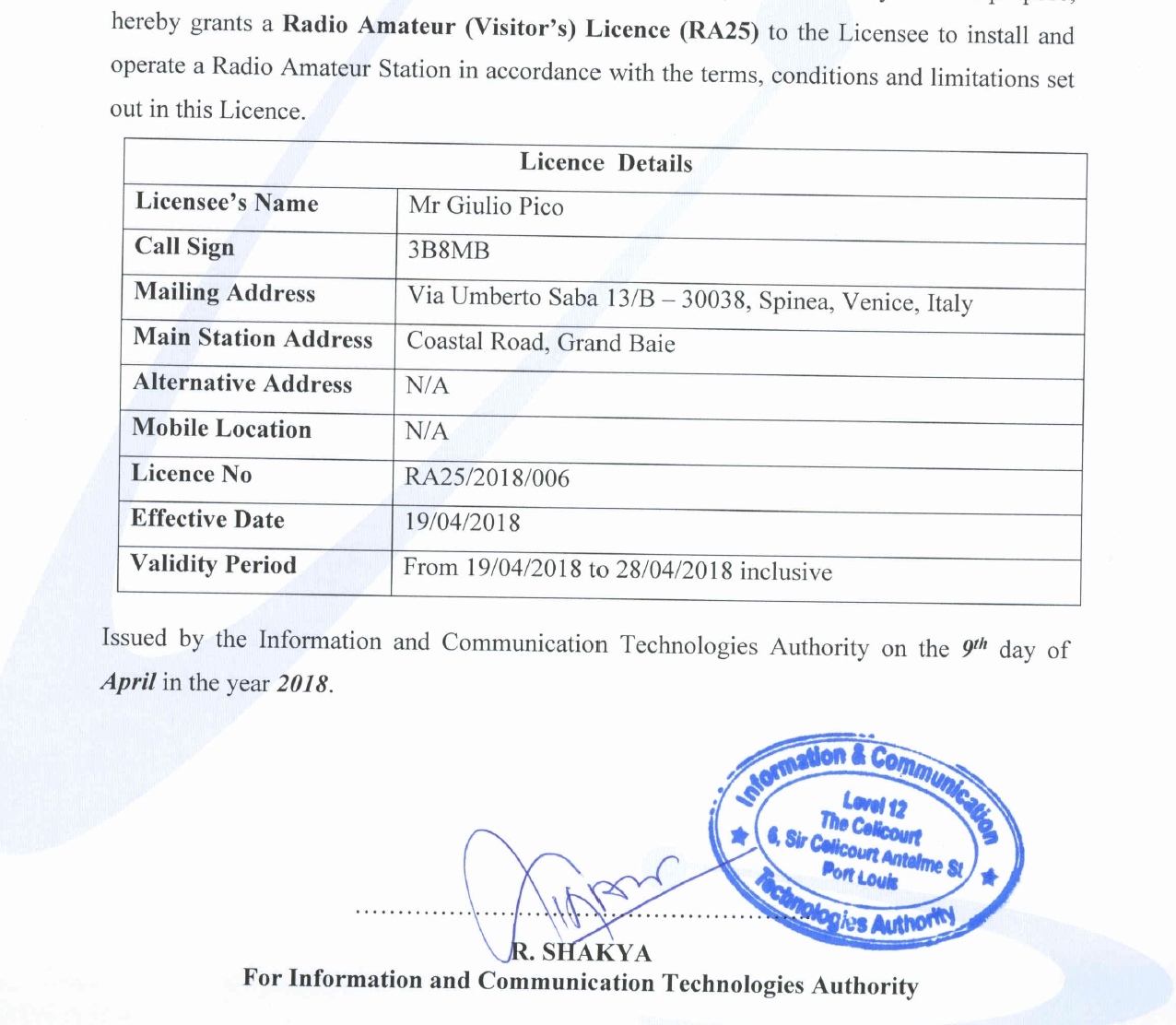 Baggage is ready!!!!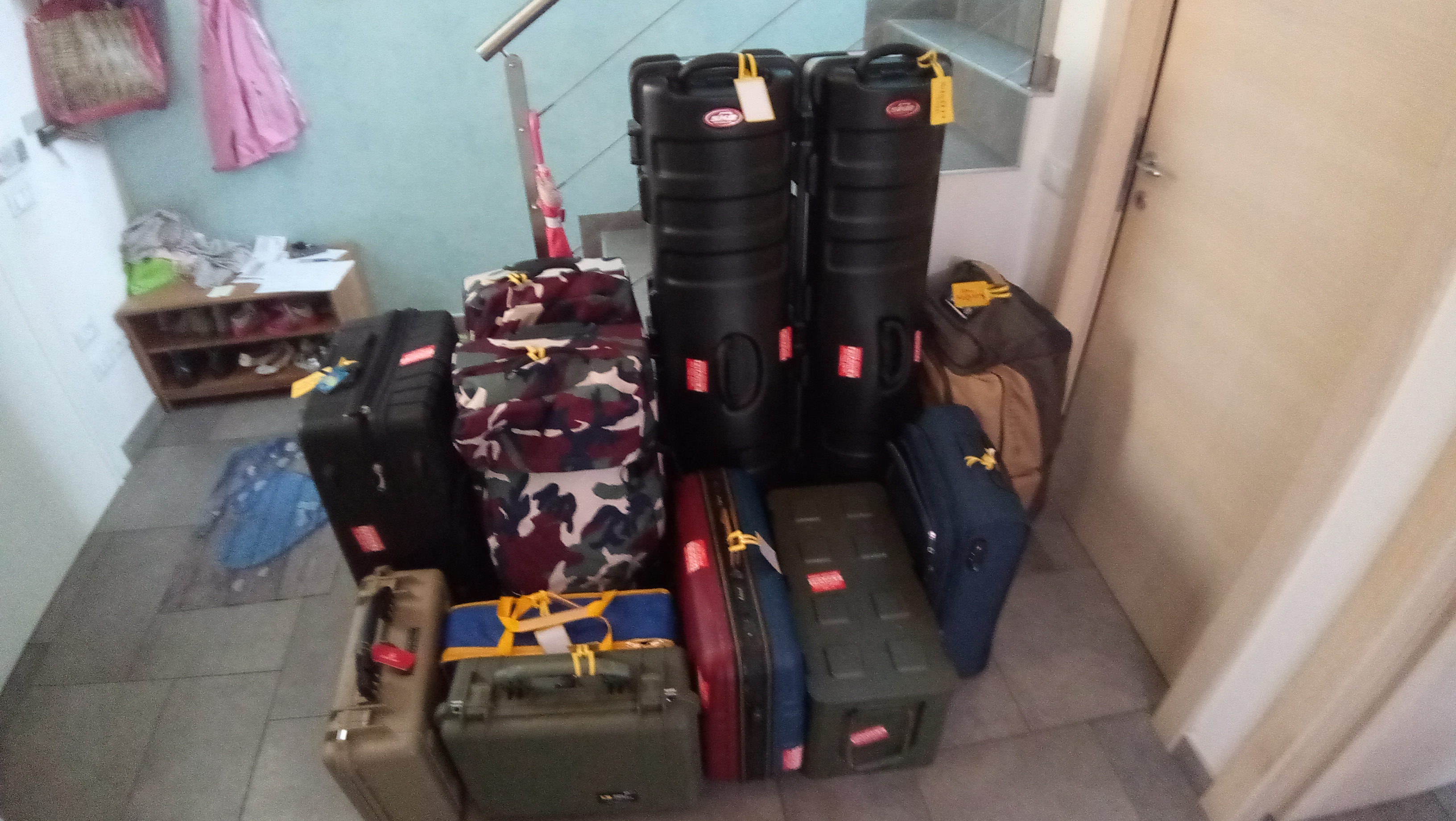 Departing from Venice int.l airport…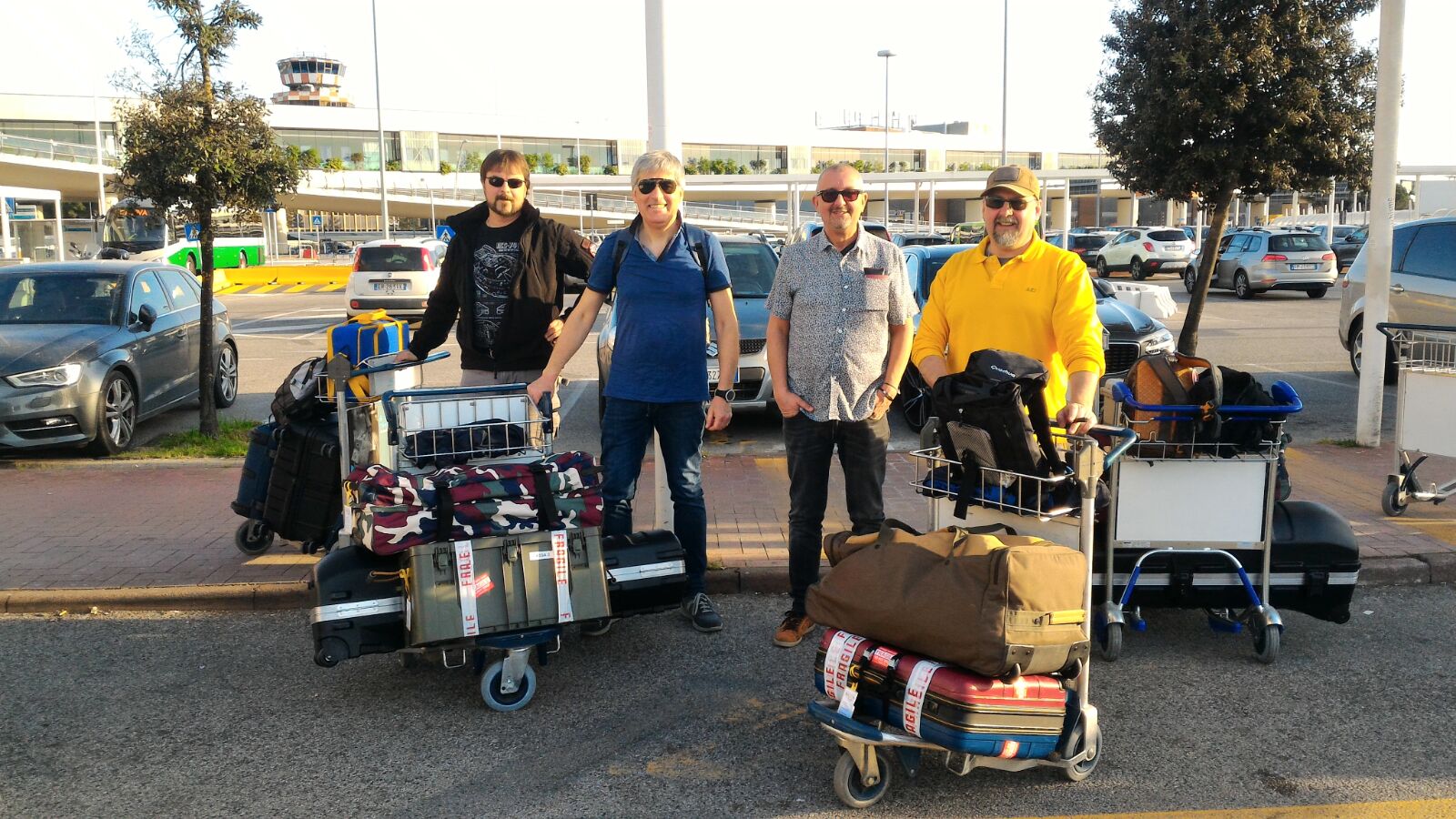 April 20th
After a full afternoon/evening and morning, with a short rest between 1 a.m. and 7 a.m. we were able to complete the setups.
First moonpass has been on 23 cm only, we were eager to be on-air since this band is the new one and the big part of the effort has been put there.
32 initials, all on JT, is a satisfactory result (have a look at the log,..). We are keeping our CW paddles warm for tomorrow.
Tomorrow also the 144 MHz station will be activated.
Hope to work many of you!
Some late night work….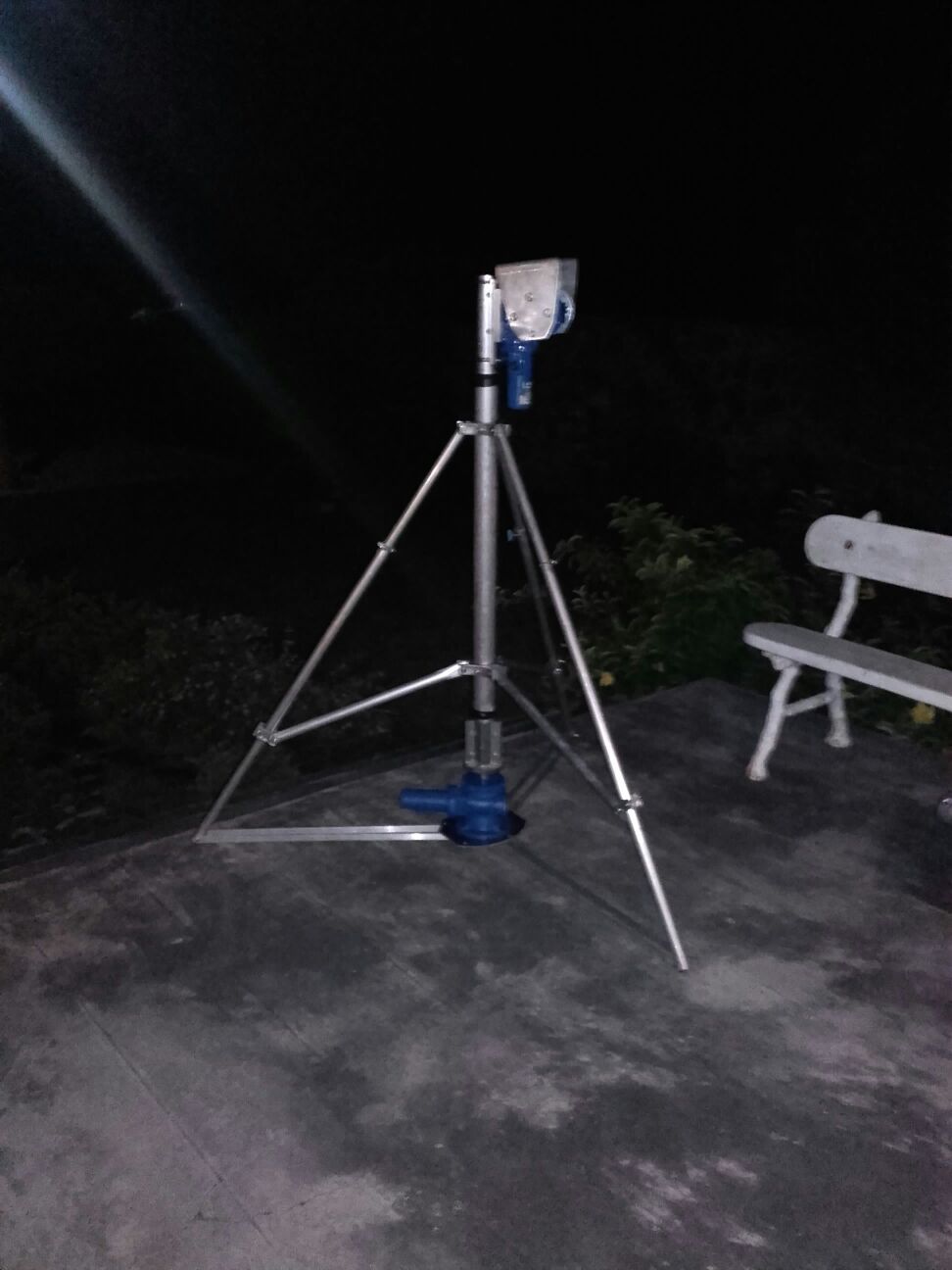 Location:

144  MHz Array, still working on the dish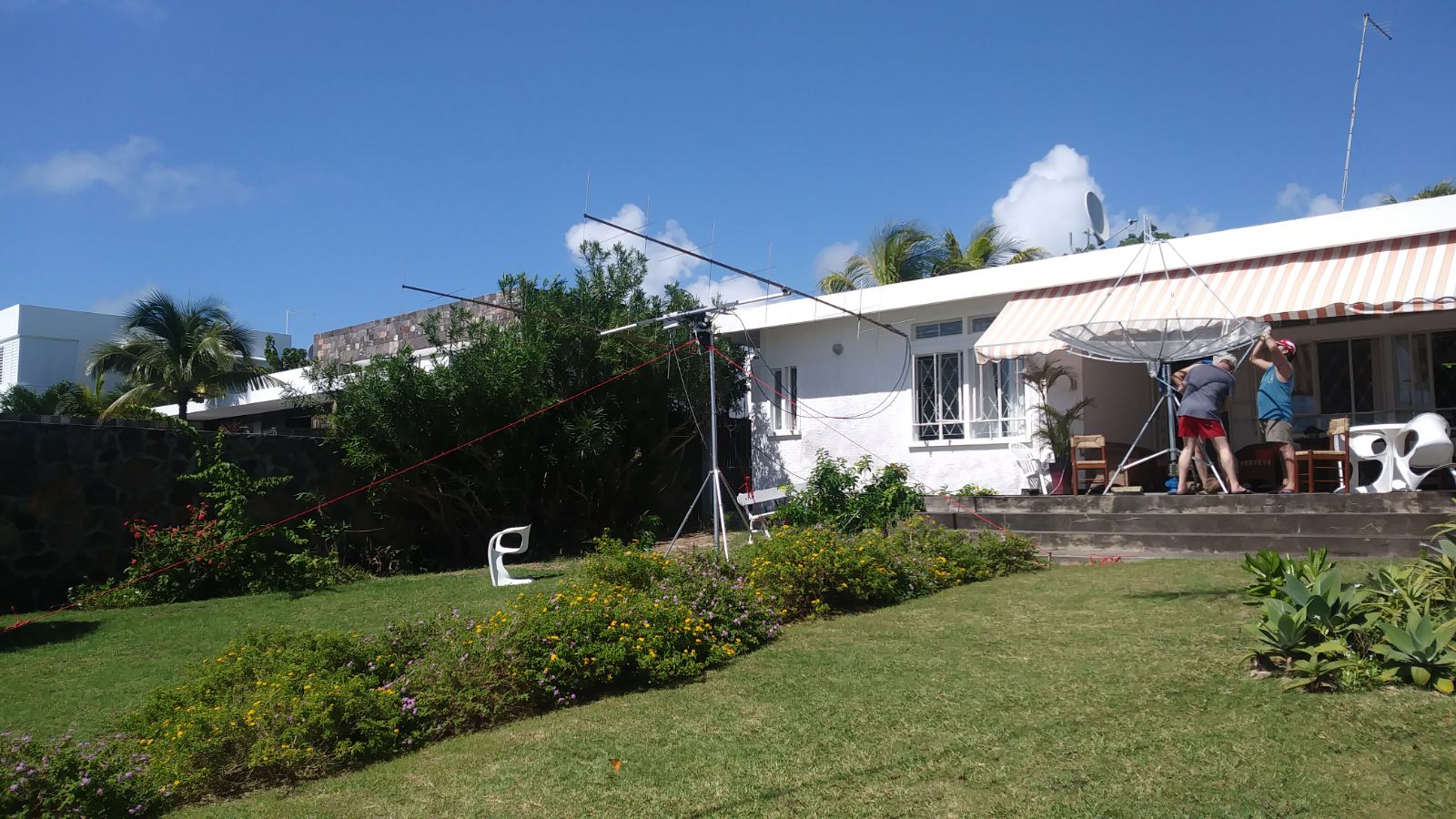 The team (apart from me, behind the camera):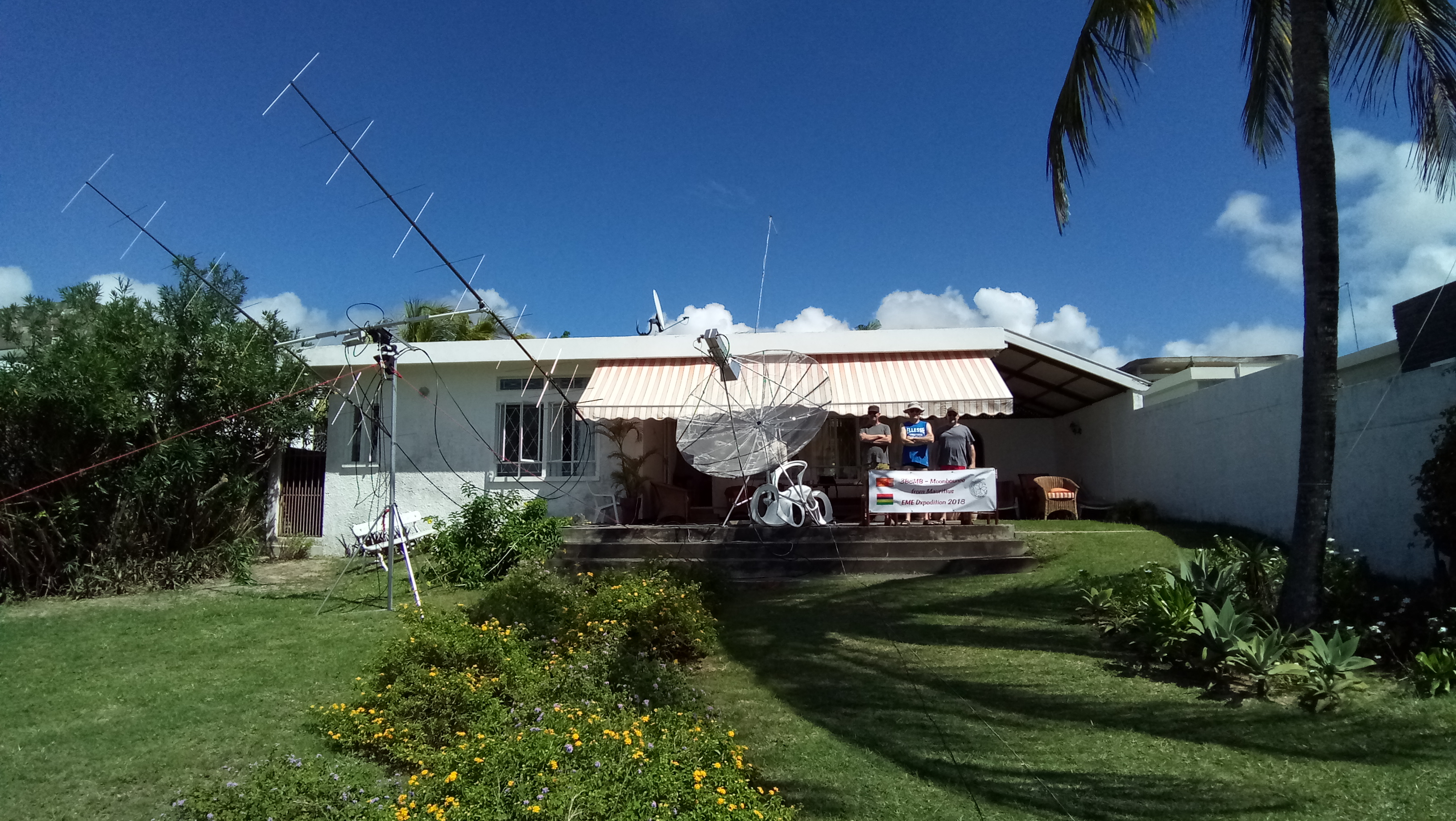 What a sight!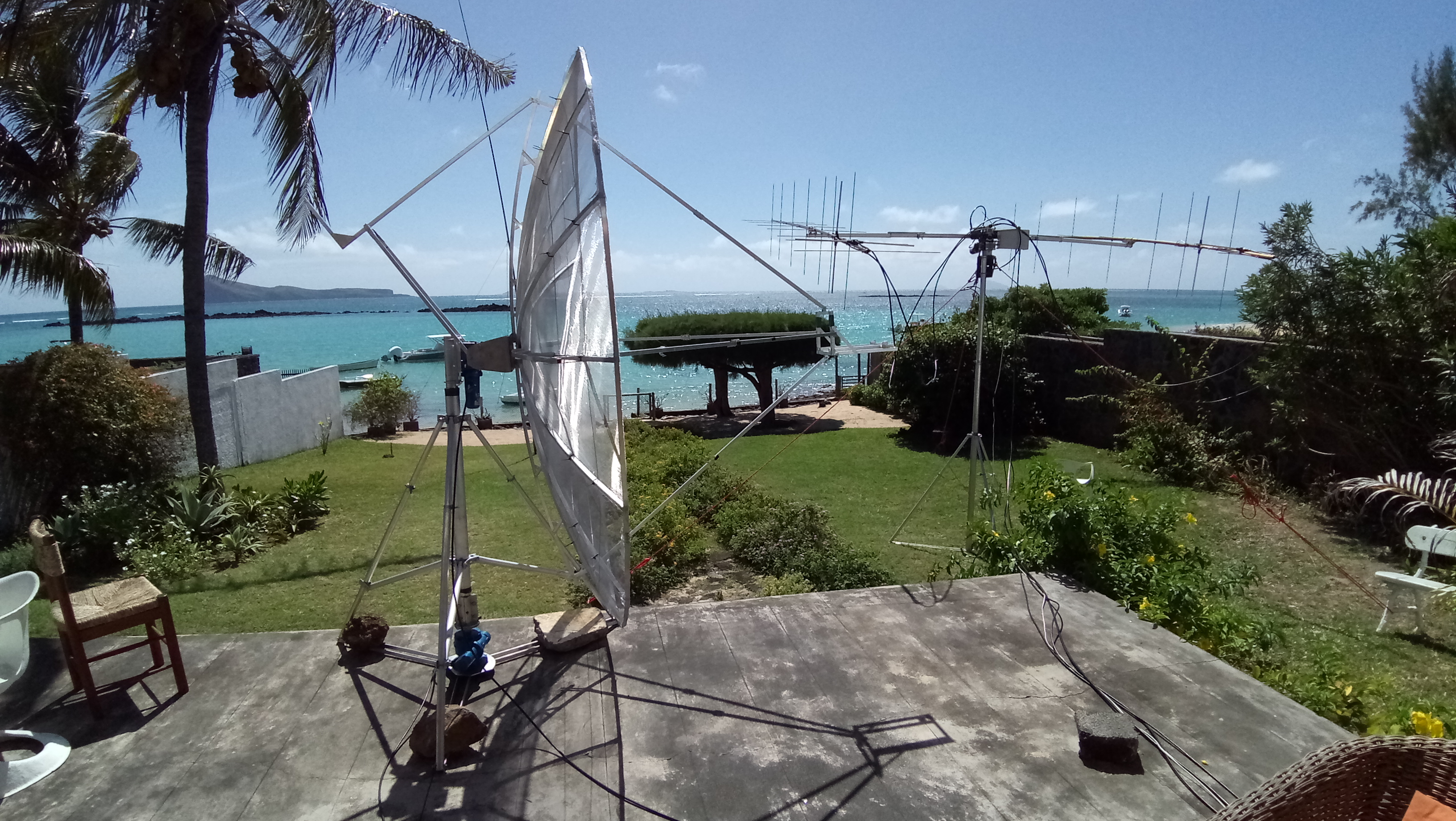 Solid Output power, ready to roll.
PileUp is forming:
HB9Q booming:
Apr. 21st:
We left the dish in a chosen parking position in order to get a radio view of a sky portion last night.
Using a 2 MHz wide receiver we were able to get a nice picture, you can see the antenna transit on Sagittarius at 1296 MHz.
The 28 MHz amplifier and RTL SDR V3 receiver used: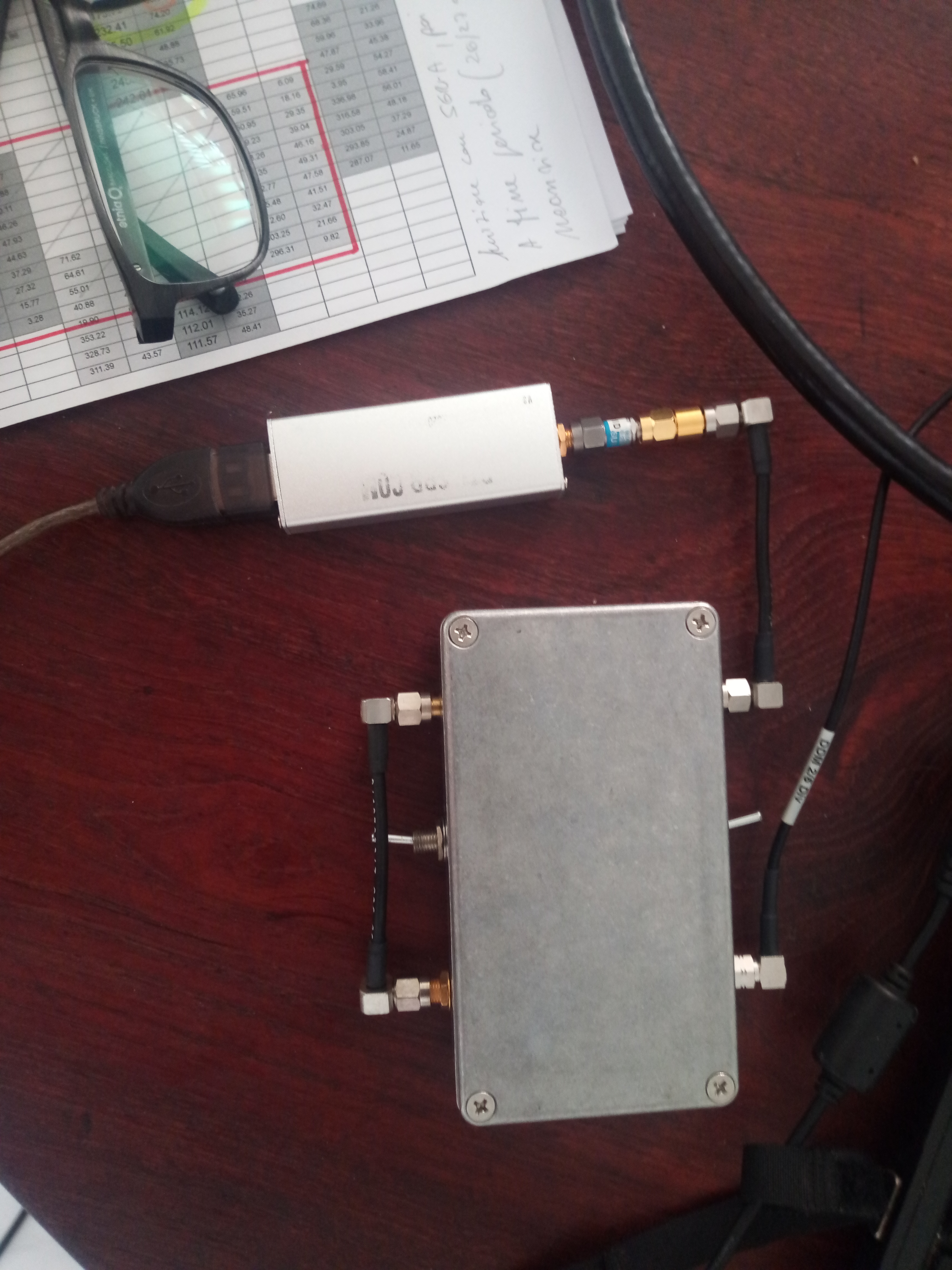 It's a rainy morning, some showers here, but it should be cleared by moonrise, in the meanwhile Corrado IK3YBX is having fun with casual CW on 30 mt.
At moonrise we were ready on both bands, but Mr Murphy showed up on 144 MHz, were the receiver semmed pretty deaf. After a few QSOS we decided to bring down the array for a swift LNA change, with no effects whatsoever. Found the LNA and the coax relays way too hot, but no signs of SWR. We suspect a faulty relay, and tomorrow morning we will try to address the problem with a new set of relays. The beam of 23 was pretty close to the LNA box, so we suspect a case of microwave cooking.
Moonrise over the ocean.
On 23 cm we did have new stations (check the updated log), altough we try to answer to several CW callers in contest without success. If someone would like to have a go, it would be better to drop me an email at giulio(at)iw3hvb.it for a sked. Last QSO was with the moon partially obscured by the neighbour house…
Tomorrow we hope to be active agn on 144 MHz, but we will be ready at moonrise for the far eastern guys. CU off the moon and GN. Time for a shower and a good sleep, if the FT8 guys give us a rest on 40 mt.
The 144 MHz and 1296 MHz shack, quite cluttered. "Kabelsuppe"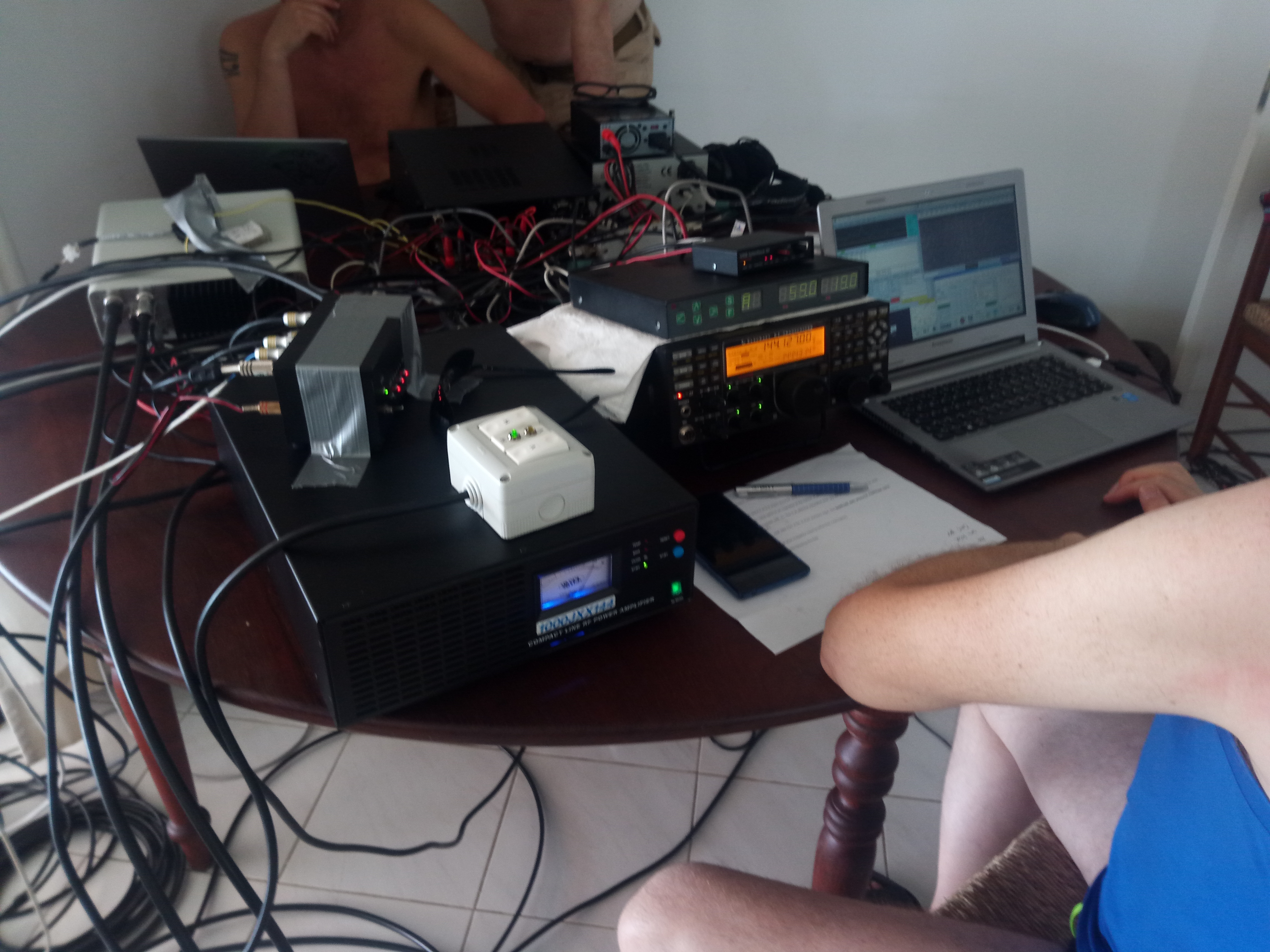 Apr. 24th
Yesterday we had quite an intense day. After fixing the 144 MHz problems we were able to be ready for moonrise.
Soon a Big pileup has started.
We managed it quite ok, with very few lost periods. Stations came in like cherries, only to be picked up.
Corrado IK3YBX did managed in a multitasking fashion, to work the pileup while shaving.
We had suddenly to interrupt, because a rainshower got our SWR skyrocketing, tripping the PA protection.
We reverted to 23 cm waiting for the pouring tropical rain to subside. Managed a few QSOs there, but the WX wasn't improving at all.
Mr. Murphy had something else up his sleeve to throw at us. Looking at the Mauritius Weather Servise website, we found out that a Class 2 tropical storm, named Fakir, was fastly approaching our location from NE.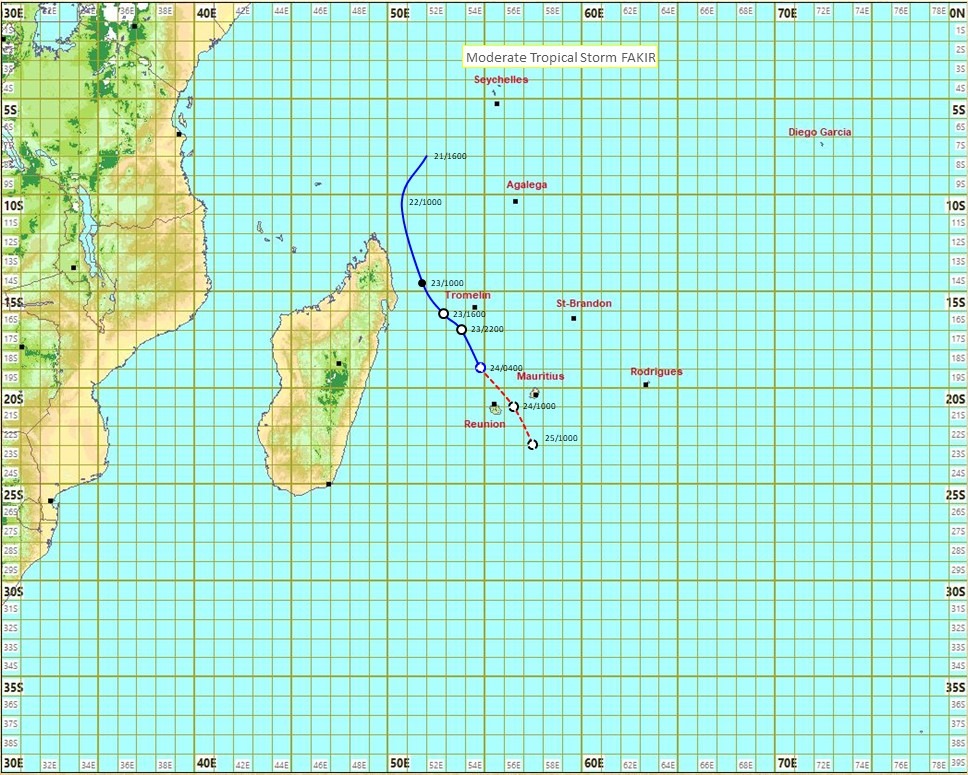 During the evening our worst nightmare seemed to quickly transform in reality: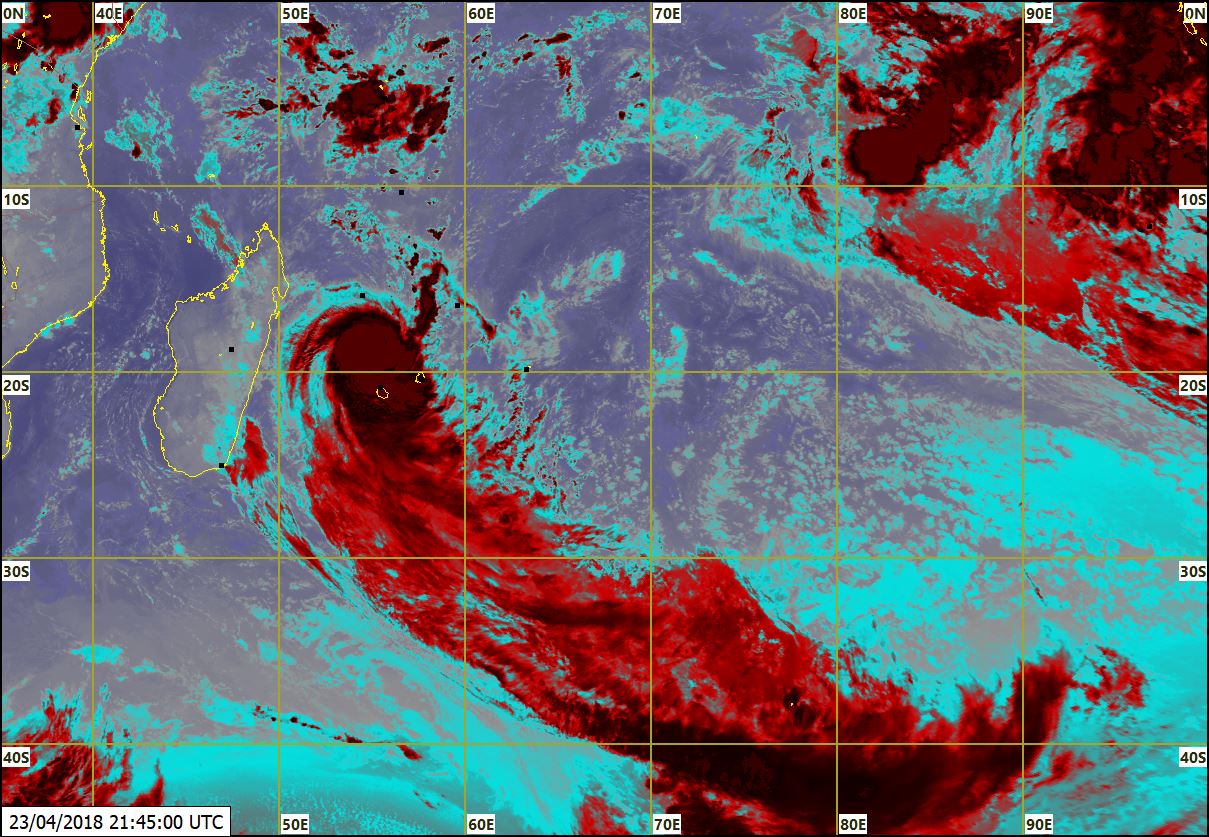 We had to take drastic measures, apart from a quite obvious QRT, We decided to tie down the 144 MHz array in a secure position, and dismantle the feeder support of the dish to bring it under the patio, in a more secluded position, sheltered from the forecasted high winds.
It has not been an easy night, sleeping with an open eye, with the wind blowing and whistling constantly, with gusts from NE up to 100 KM/h…
In the morning we were welcomed by the weather chart: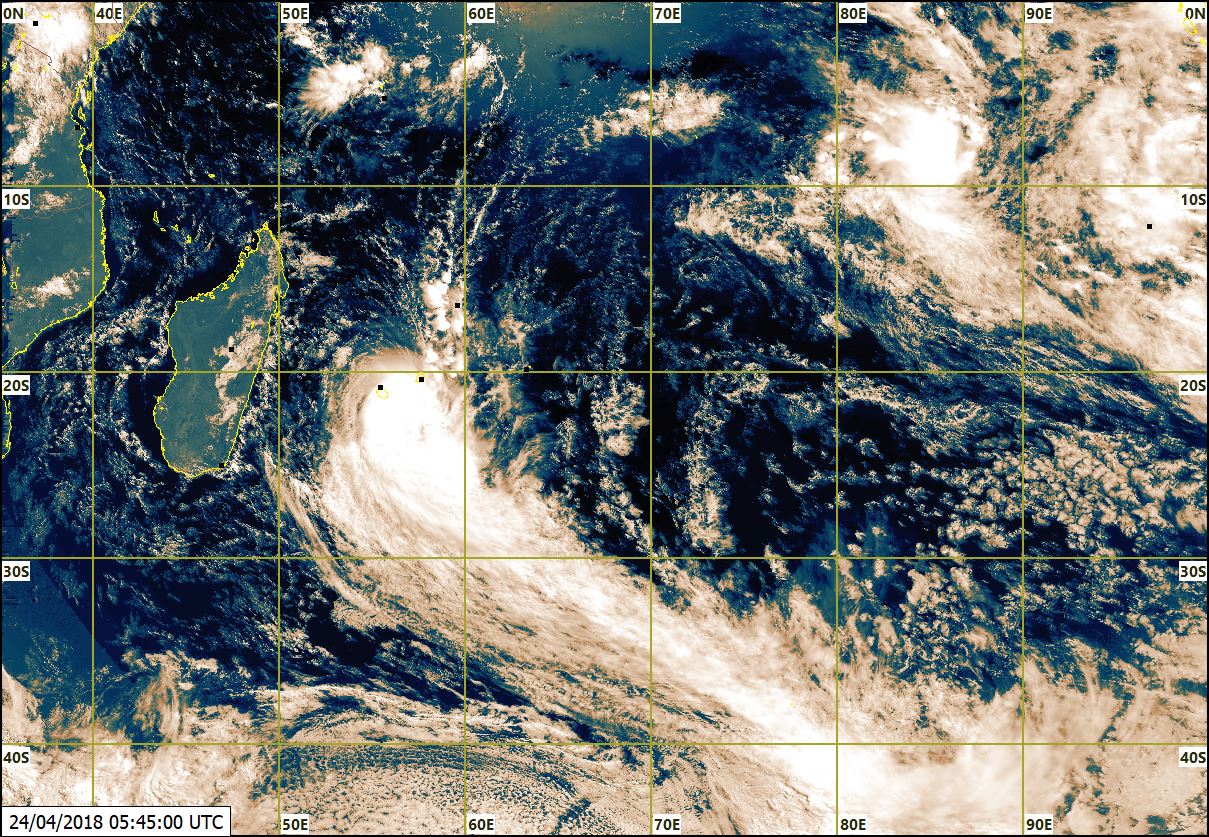 We seemed to have had ride the storm without damage. The aftermath consists in heavy swell from the ocean, and sustained winds with occasional rainshowers.
Looking at forecast, situation should improve in the afternoon, so we may be able to get back on air later in the day.
Apr. 25th
Yesterday we had fun.
Still very windy in the morning, but sky got clearer in the afternoon, and wind dropped.
From the strong wind and swell a boat moored in the area near our house broke the line and got stranded ashore.
We started @ 11:15 UTC on 144 MHz and soon we got our waterfall full.
A couple of QRX in order to get the 23 cm station working again, repositioning the dish in his operating place, reassembling feeder support and aiming calibration.
We had some problem with the lack of noise raise by the transverter, and had to trace down the problem, finally found in a N connector at the LNA output cable.
Fixed this, everything got back to normal, with echos at -7 on WSJT waterfall and speaker copied.
After some 55 stations worked in the afternoon on 2 mtrs and a vy quick dinner, we got back on 23 cm, to work some other guys on CW and JT, including our vy good friend IK3QAR (Author of QARTest software), in his 1st EME qso ever (Station courtesy of IK3COJ).
Log is filling up, currently at 83 initials on 23 cm and 85 on 144 MHz. Quite good numbers, expecially on 23.
Tonight the dish has be pointed in the transit area of Cassiopea, we got a nice picture of it (peak on middle right of graph below, what follows is sun noise pickup in the morning).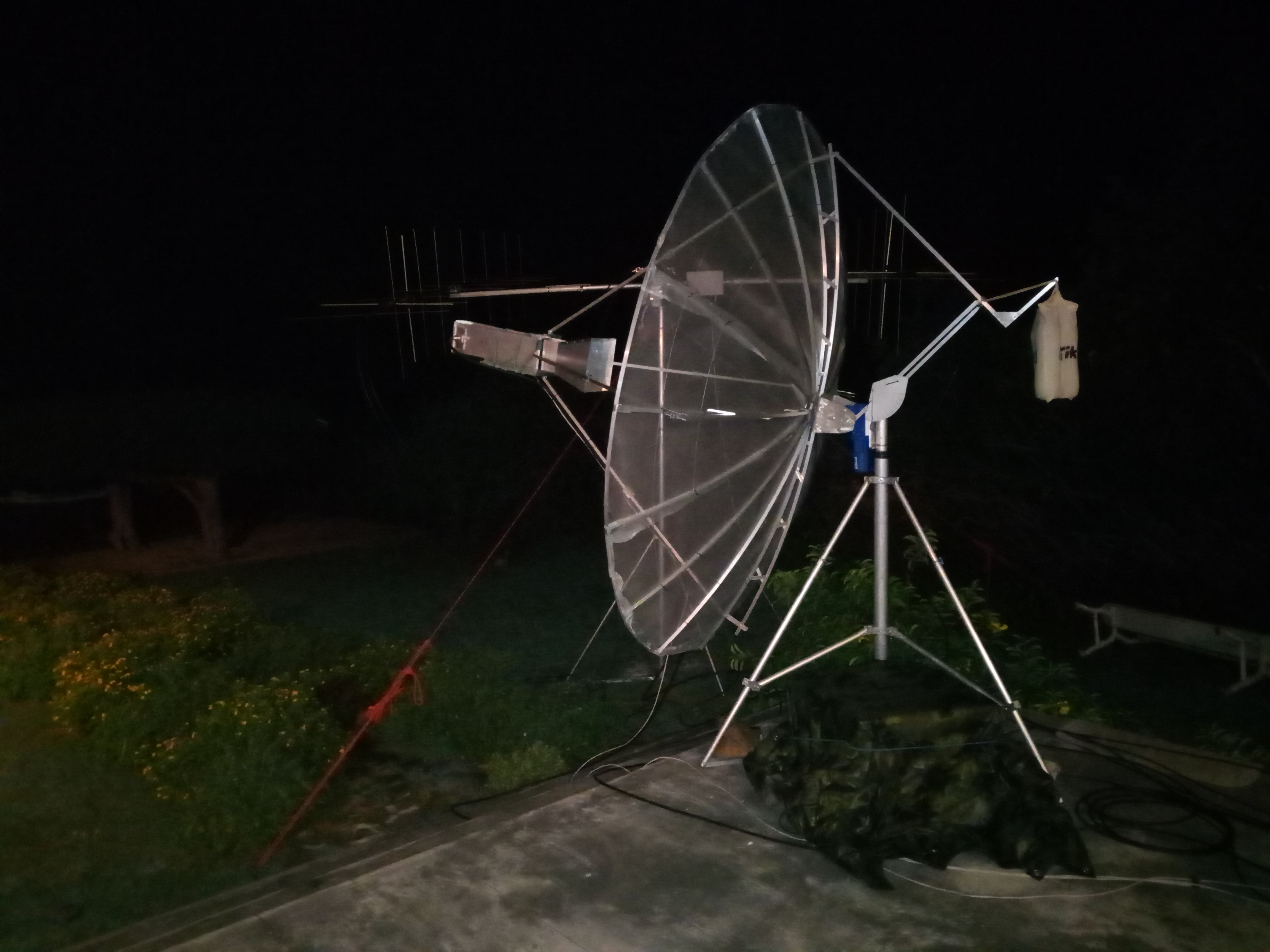 Today we'll be active on 23 cm until 18 UTC, then we'll switch on 144 MHz until moonset.
CU off the moon, I go to have a dip in the ocean now. 😉
We decided to get some aid for the moon aiming, so we hired an aiming officer:
This will improve our signal for sure, by riding the feeder.
And this is 3B8MB team, along with the new recruit:
73, stay tuned for updates!
Apr. 26th:
Yesterday we worked on 144 MHz, not without issues. A nasty combination of noises coming in order from: a badly shielded USB cable, a Radar, and atmospheric discharges, rendered things very hard to manage.
We did had some QSOs on both bands, with a couple of new inits on 23 cm.
Today we'll work mainly on 144 MHz, with a couple of QSY to 23 cm to accomodate some skeds. This will be our last moonpass on 23 cm, tomorrow we'll do only 144 MHz from moonrise to moonset (If we managed to stay up that late). Then Saturday we'll leave this beautiful place, but we'll bring home tons of fun and anecdotes to tell.
CU off the Moon.  Giulio and 3B8MB Team
Apr. 27th:
Yesterday night we celebrated our friendship and the activation itself with a treat at the expenses of a couple of vy big lobsters and a snapper, grilled on char. Yummy. You never know when WD40 will come in handy. Even to ignite the charcoal…..
This morning we disassembled the dish and 23 cm station.
It has been quite a run, with results well beyond expectations. 94 absolute inits, with 26 CW QSOs are something I could only dream of. A total of 117 QSO.
A great part of the merits goes to the behind the scene guys, dad IK3COJ of course, but also Giorgio IK3GHY and Francesco IK3HHG. The PA worked flawlessy, and delivered without a single problem. Everything has run smoothly, from moon tracking, thanks to Prosistel, to the filtering system by JG RF, IZ4OSG.
Sometimes a brutal backup come in handy to calibrate elevation…
We found the time after disassembling the dish to have a refreshing dip in the ocean.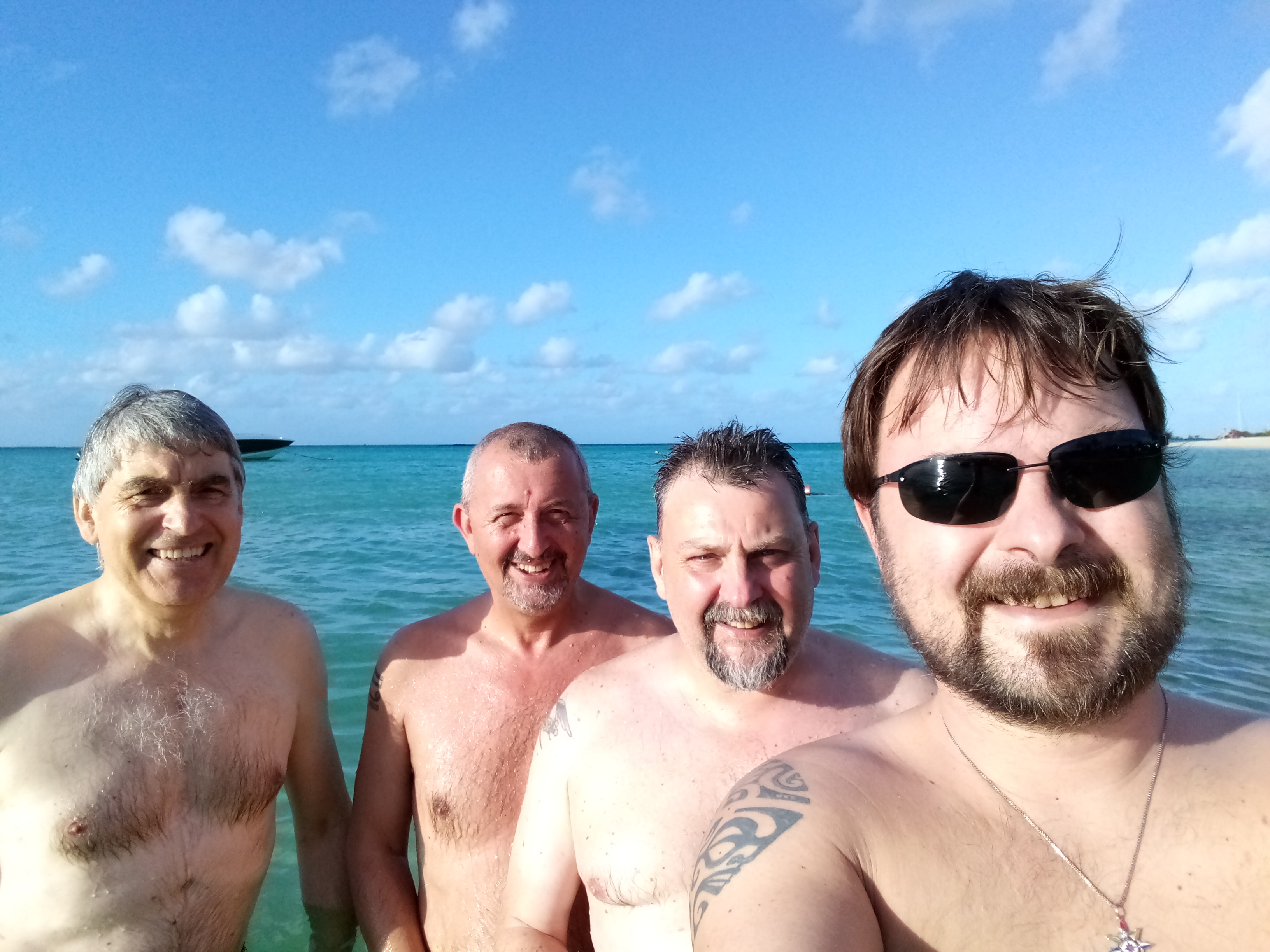 Last moonpass today will be 144 MHz only, hoping that noise gives us a rest, then it will be final QRT from 3B8MB. Today we'll disassemble the 2 mt array and we'll go to the airport, without something. The aerials will remain here, a local Ham (Patrice 3B8FA) has expressed the desire to get active on 2 mt moonbounce on a permanent basis, so there is still hope for those that coudn't make it with us, to get Mauritius in the worked list.
We had tons of fun. Loved every minute of it. Tnx to the donors and the sponsors, it wouldn't be possible to activate these places without their support.
73.  Giulio IW3HVB, Vittorio, Corrado IK3YBX, Fabio IZ3IBL
April 28th.
That's it. It's 5 a.m. in Mauritius, I am still up, the other are snoring in their rooms.
Just managed the last moonpass, with 53 new stations. That brings the total to 181. I think that we can be proud of the results. Almost 300 EME QSO. Wow.
I've updated the log, since I doubt I will be able to get into it before getting home, and I know that not knowing if the QSO is in it can be quite gnarling.
Now I don't know if it is better to go to bed and wake up in 2 hours, or stay awake to listen to the placid (yes, now it is…) ocean right in front of me.
I am in turmoil, exactly the same sensations I got after my QRT from Tahiti. A mixture of joy and sadness. I believe there is only one cure to this……..
Stay tuned.
Best 73 and GN.  Giulio IW3HVB
Departing.
I want to share the secret weapon of italian EME DXpedition…
Coudn't do without….
Bye. G.